Yesterday, we published an article Are Mutual Fund Infrastructure Funds suitable for you. In this article we discussed that by investing in Infrastructure Funds; you are probably over diversifying. Also, it is suited best to investors of high risk profile having a long investment horizon. I am happy to share, we got good feedback about the article and some of the readers wanted to know that if it is risky, and the extent of risk associated. They also wanted to know are Infrastructure sector funds investing in the same sectors and stocks which Diversified Equity Funds, Large Cap Funds and Multicap Funds are investing in and so on.
This prompted us to do a quick research and we found the following, which might help the readers to decide whether to invest in Infrastructure Funds or not.
Check the Risk by having a look at the Riskometer
First, how much is the risk associated? It is now very easy to check the risk level of a fund. Effective, 1st July 2015, all the existing Mutual Fund schemes and all schemes to be launched thereafter will have a 'product label' based on the best practices guidelines issued by Association of Mutual Funds in India (AMFI) in this regard. It is called 'Riskometer'. Riskometer would appropriately depict the level of risk in any specific scheme. For enumeration, we are giving below two Riskometers depicting the risks of schemes having 'moderately high risk' and 'high risk'.

Readers should note that Infrastructure Funds, according to the Riskometer available with respective Fund Scheme Information Documents depicts the funds as 'High Risk'.
Top Sectors that the Infrastructure Funds are investing in
By hearing the word 'Infrastructure' you will expect that the funds in this sector will probably be investing in sectors involved in Infrastructure development, like – Construction, Cement, Industrial Goods and Products, Power and Gas etc. Hold on, you are partly correct. The sector that the Infrastructure funds are betting most is Banking and finance. Our analysis found that around 16% of the entire corpus of 21 Infrastructure funds is invested in Banking and Finance, followed by 15% in Construction Projects, 11% in Industrial Goods and 8% in cement sector and so on. The chart below shows you the top 10 sector exposures that all the Infrastructure funds put together in India have taken.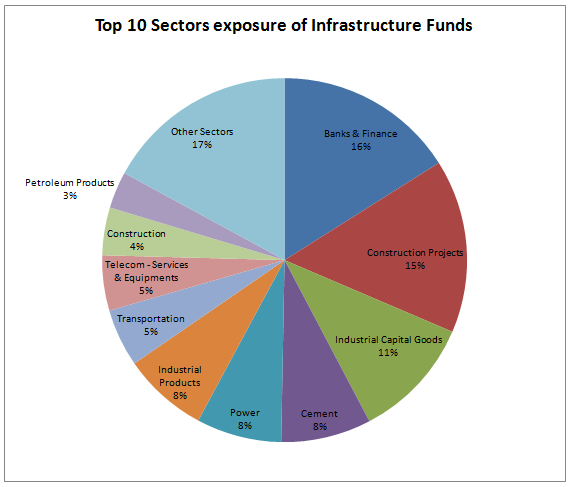 Source: ValueExpress
Top 15 Stocks that the Infrastructure Funds have invested in
Again, can you guess some of top stocks that the 'Infrastructure' funds would be investing? You are in for a surprise again, as the top 5 stocks out of these 15 stocks are from Banking and Finance. Yes, you got it right! A little more than 10% is invested in 4 top banks of the country – ICICI BANK, SBI, HDFC Bank, AXIS Bank and IDFC (IDFC Ltd. got the banking license recently and yet to start the operations). Again ICICI bank is a favourite with the fund managers in this sector as around 3% of the total asset is invested in this Bank alone which is second to the highest invested stock i.e. Larsen & Toubro.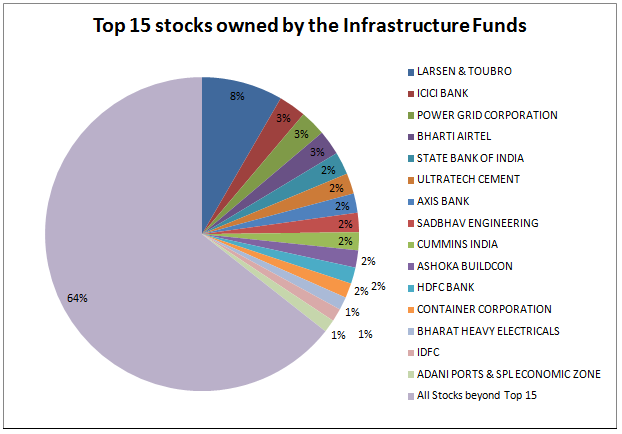 Source: ValueExpress
From the above top 15 stocks we found that atleast 10 stocks are also favourites of mutual fund managers who are managing various schemes under Diversified, Large Cap and Multicap categories. The point we are trying to drive here is 'what's in a name'? The name Infrastructure could be misleading for a new or not so seasoned mutual fund investor.
What are the other Stocks from Banking and Finance
We have described above which are the 4 banking stocks in which Infrastructure fund managers have invested almost 10% of the total 16% corpus invested in this sector. The other big names where the fund managers have invested the rest 6% are - HDFC Limited, Kotak Mahindra Bank, Yes Bank, Federal Bank, Punjab National Bank, Indusind Bank, Bajaj Finserv, LIC Housing Finance and others.
Should you invest in Infrastructure funds
Our answer is yes and no, both. First, No – Sectoral funds are by design bear the most risk amongst all equity funds categories, therefore, not suitable for all investors. Why invest in Infrastructure Funds? The idea to invest in equity mutual fund is to diversify your risk and get the returns linked to equities. Equities as an asset class are proven for giving the highest returns than any other asset class. Within Equity Mutual Funds, there are Large Cap funds, Diversified Equity funds, Mid and Small Cap funds and so on. These funds are less risky and diversified in nature than Infrastructure Funds. Also, these funds offer you a wide choice across AMCs and fund Managers, therefore, if you want to reap the benefits of equity investing through mutual funds then these are the best categories to invest in.
Now, yes – You can invest. By investing in Infrastructure funds, you can actually explore the companies which are involved in Infrastructure creation. If the investment cycle revives, chances of which are high, then you can expect good returns in next 4-5 years from these funds. If not, then you will have to wait for a long period of time. Most importantly, if you are willing to take high risk and wait for high future returns then some part of your portfolio can be allocated to this sector. But, by having said that, it should not be part of your core mutual fund portfolio irrespective of your risk profile.
Conclusion
We discussed how the Infrastructure name can be misleading as a big portion of the total assets are invested in a sector which is not from the core Infrastructure sector. We also discussed, why and how you should look at the Riskometer while investing in Mutual Funds and check the risk factor of the fund with that of your risk profile. There are good and not so good things about each kind of investing. But, if we talk about sectoral funds or particularly Infrastructure sector funds, then it is the most risky. We would like to suggest you to have a discussion with your mutual fund advisor before jumping to invest in these.